Is there really anything more important than the first purchase? Yes – the second!
There's a common myth in e-commerce that a focus on customer acquisition is the golden ticket to a happy and healthy life.
But what if we told you there's another strategy that's even more vital, and will produce more revenue and brand loyalty in the long run?
We're talking about customer retention. The path to second purchases, third purchases, fourth purchases – and so on.
In this post, we're going to define customer retention and take a deep dive into retention marketing – what it is, why it matters for e-commerce brands, and ways to increase repeat purchases within your store.
Let's begin!
What is customer retention?
Before we can fully understand the concept of customer retention, we'll need to take a step back and define a few key terms.
Customer retention happens when a customer returns to purchase at your store
Customer churn happens when a customer chooses to stop purchasing from your store
Put simply, customer retention is a strategy to boost repeat purchases and reduce customer churn. It measures how long customers stay with your company.
To calculate your customer retention rate, all you need is to keep track of the number of customers you have at the start of a specified time period vs. the number you have at the end to understand the # of customers lost.
Once you have these numbers, the formula itself is very simple:
Customer retention rate (CRR) = (# of customers lost/# of total customers) X 100
For example, if you started with 3,000 customers and lost 150 after six months, your churn rate would be 5%.
What is retention marketing?
A customer has just purchased their first product with your company. Great! Now what?
Is there a confirmation email with branded tracking? A loyalty program offer? When the customer actually receives the package, what does it look like? Is it branded? Are there marketing inserts?
This 'now what' part of the customer journey is where retention marketing comes into play. Retention marketing is an approach that focuses on using customer data to keep customers and encourage them to continue purchasing products from your brand.
Retention marketing differs from customer acquisition as it focuses on the customer's journey holistically, meaning both the purchase and post-purchase experience are taken into consideration and optimized for engagement.
Why does retention marketing matter in e-commerce?
Returning customers are cheaper
It's a well-known fact that it costs 5x more to attract a new customer than it does to keep an existing one. Interestingly enough, only 18% of companies are focusing more on customer retention marketing, with the majority keeping their sights on acquisition marketing.
Moreover, while repeat purchase profits have increased by 36%, in 2022 the average e-commerce brand still lost $29 on each new customer. The moral of the story? Repeat customers are simply better for business!
Returning customers spend more
Picture this: you're attending a wedding in a few weeks, and still haven't gotten a dress. You head to a well-known brand's site and pick out 3 dresses to try. They arrived early and in great condition. And you got a discount code for your next purchase! You loved two of the dresses and sent one back with no hassle whatsoever.
Would you purchase from this brand again? Absolutely.
When a customer has a positive brand experience, they're much more likely to purchase again. The more a customer purchases from your store, the more confident they are to add more products to their cart.
In fact, studies show that an e-commerce business's top 10% of loyal customers spend 3X more than the average customer.
Returning customers become brand advocates
It's no surprise that happy, loyal customers tell their friends and family about their favorite brands. Organic discussions about your brand can lead to far more revenue and purchases than even the most intricate marketing campaigns.
A study by RRD found that the majority of consumers (55%) discovered a new brand or product through word-of-mouth marketing. Plus, a whopping 40% of consumers went through with a product purchase!
3 customer retention strategies to boost repeat purchases
1. Loyalty programs
Perhaps one of the best retention marketing tactics, loyalty programs incentivize repeat purchases while building a community of highly engaged customers. When done well, loyalty programs can actually increase customer lifetime value while improving customer retention. They keep customers engaged and happy with unique perks. Essentially, it's a win/win for the customer and the brand.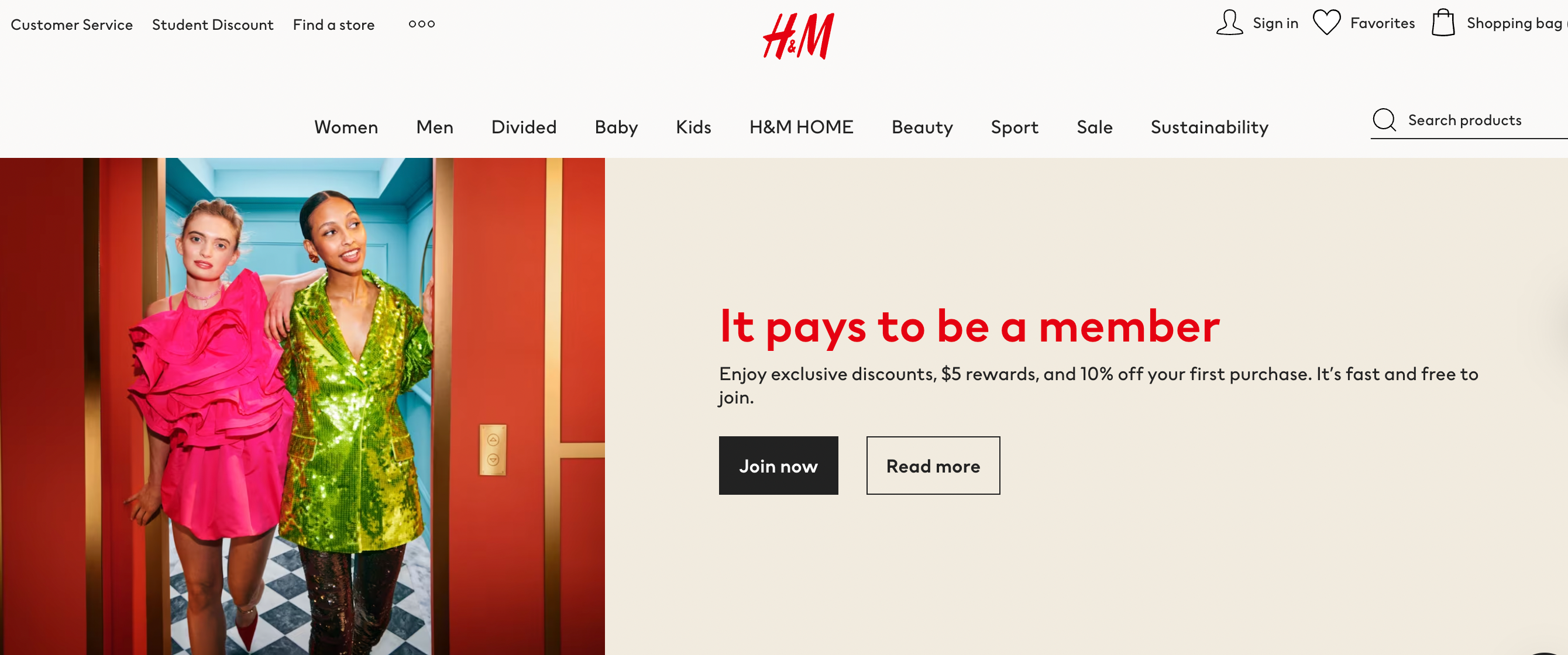 H&M's loyalty program offers a points-based program that has two tiers, Members and Plus. Depending on the points-based tier, existing customers will get access to perks like free shipping, free online returns, monthly gift card giveaways, special access to collections, and more.
2. Fulfillment marketing
Fulfillment marketing. In e-commerce fulfillment, it's the only guaranteed interaction with the customer. They can avoid texts, emails, and social media – but if they've ordered a product, they will always receive the package!
Fulfillment marketing is a perfect way to revamp the post-purchase experience with personalized touches. This way, your customer won't feel like they are getting just another generic product from an online brand. Instead, it'll be a unique, exciting experience – the perfect retention marketing campaign.
Fulfillment marketing efforts can include:
Branded packaging
Thank you notes
Promos/coupons
Product sampling
QR codes for cross channels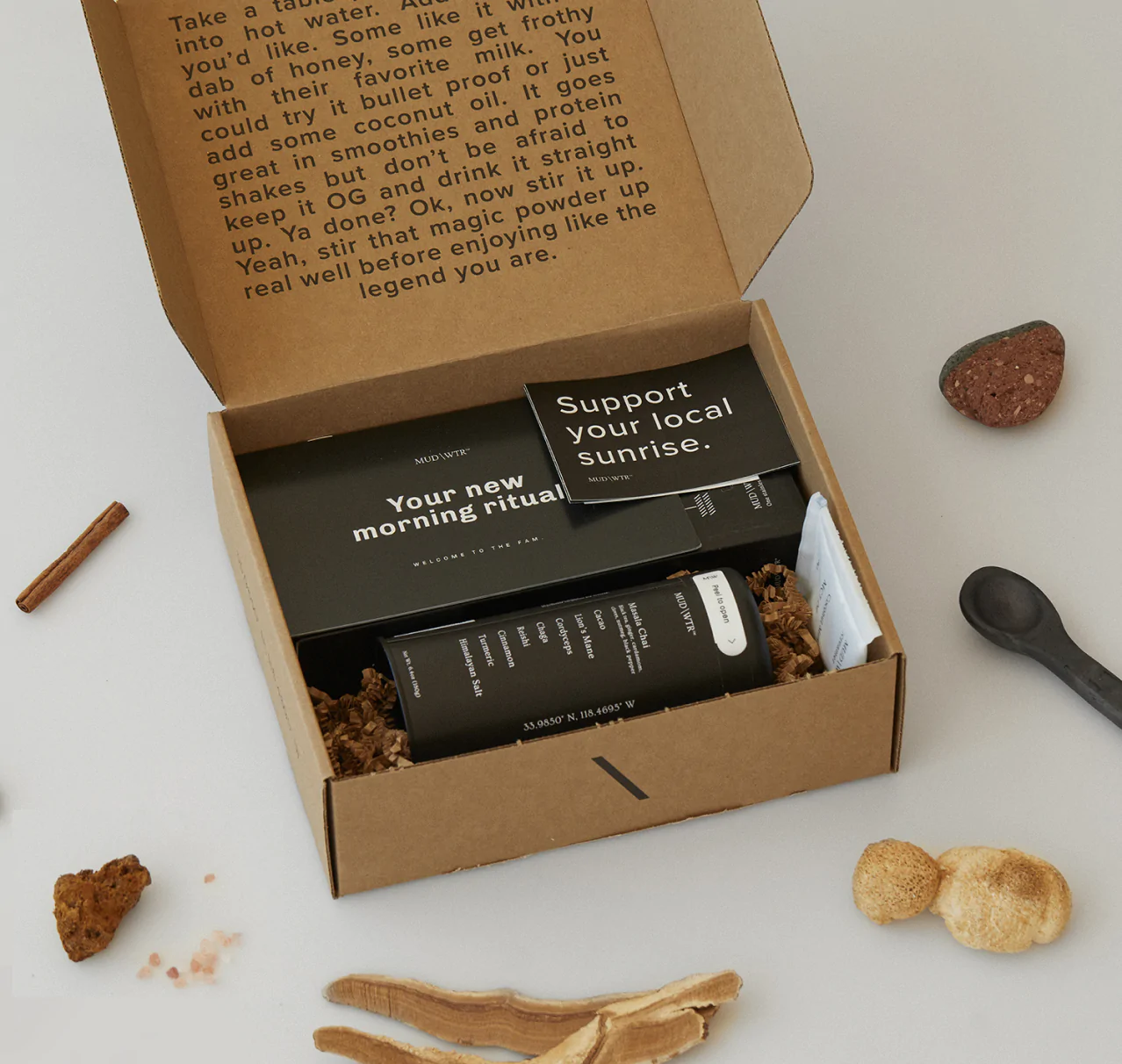 Coffee alternative brand mudwtr carefully curates everything their customer will need to start their own morning ritual. This includes items the customer paid for, like a rechargeable frother and a full tin of coffee alternative. However, they also throw in free items like sample creamers, sweeteners, stickers, and a guidebook.
3. SMS marketing
Is the age of email marketing done for? Not quite, but there is another method of communication that tends to get much higher engagement rates – the humble text message. SMS marketing is a highly effective retention marketing strategy that enables brands to engage with old and new customers, offering discounts, sending personalized product recommendations, asking for feedback, and more.
SMS open rates are as high as 98%, a number that's almost impossible to reach with email marketing. Not only this, but 80% of the North American population (292 million people) use texting as a form of communication. With these numbers, it's no wonder why SMS marketing campaigns are doing so well!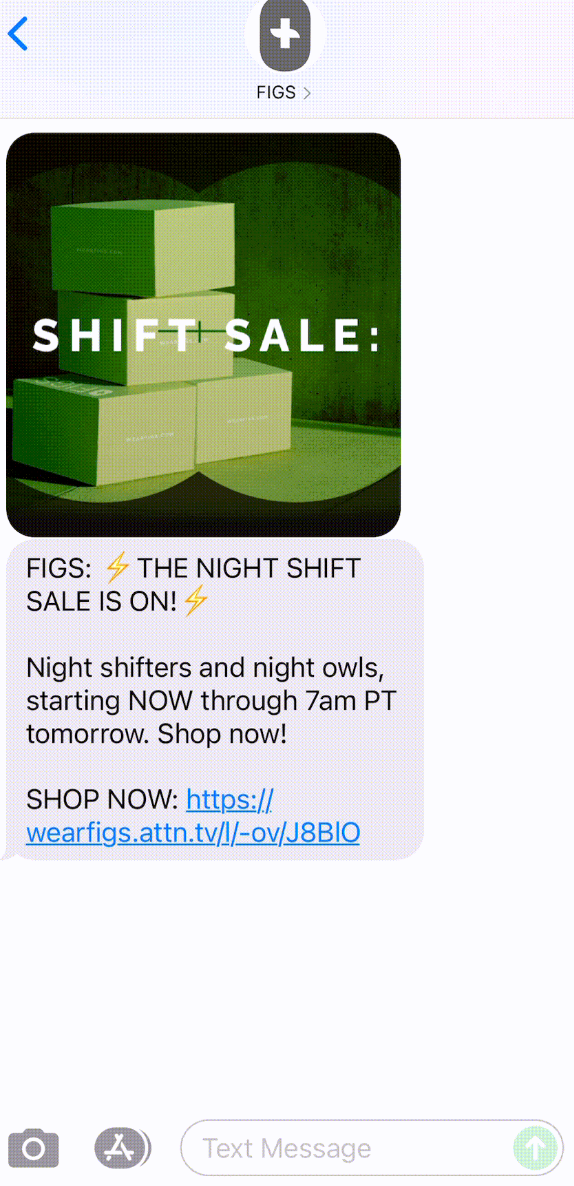 Online health apparel brand Figs uses a stellar SMS marketing strategy that includes seasonal promotions, captivating images and GIFs, discounts, emojis, and personalization.
E-commerce, retention marketing, and the future
It's no secret that e-commerce brands are in for a volatile 2023 year. While inflation is slowing, consumers are still extra cautious about their purchasing behavior to remain financially comfortable. For brands, this means being able to connect with loyal customers who repeatedly purchase will be the key to a successful year.
If you're an e-commerce brand, it's high time to start developing effective retention marketing strategies ASAP to boost revenue now and reduce customer churn in the long haul.
And while retention marketing shouldn't completely replace acquisition marketing, finding the balance between gaining new customers and keeping old customers happy is a differentiator for brands.
Want to learn more about effective retention marketing tactics for driving repeat purchases? Check out Episode 29 – Retention marketing: The key to sustainable growth here.